Michigan - > Colorado
1200 some-odd miles. (4pm EDT - 1am CDT on Tuesday July 1st; 6am CDT - 11:30pm CDT Wednesday July 2nd; 3am CDT - 10am MDT Thursday July 3rd for a total of 35.5 hours including rest stops for 20-40 minutes every several hours)
Michigan Pictures:
Kitten is ready to go before we even pack the trailer. (7/01/03 12pm EDT)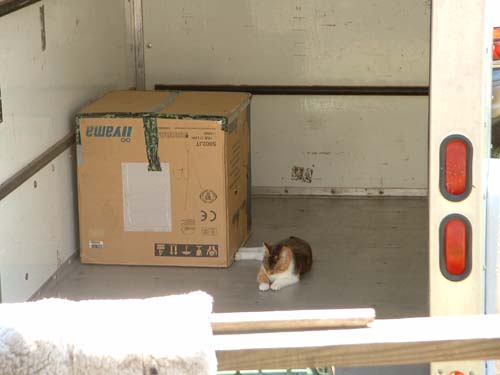 Indiana Pics:
We just barely traveled through the corner of Indiana, but we did stop at a rest stop. (7/01/03 6pm CDT)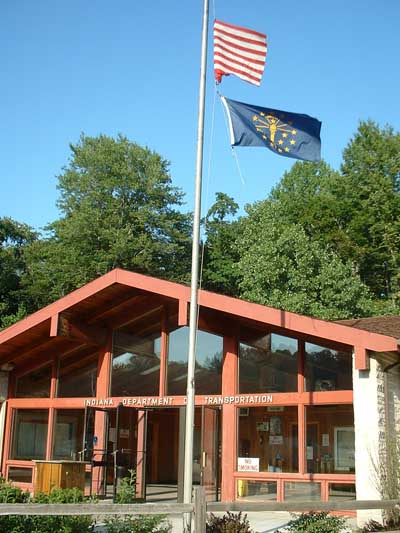 Illinois Piktoors:
We stopped at another rest stop in Illinois after dinner at an Arby's. My car is parked here in a big parking spot for tractor trailers between a couple large ones. Poor picture quality is due to darkness and lack of flash working at this distance.(7/01/03 10pm CDT)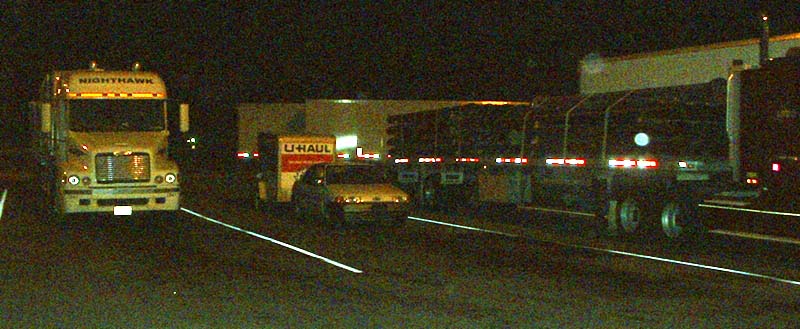 Iowa Pics:
We stayed overnight (about 4 or 5 hours of sleep) at a rest stop just inside Iowa. Later that morning we took a few pictures at another rest stop 3/4 of the way through Iowa. Ti took a pic of some trucks at the rest stop with I-80 in the background and pretty clouds in the sky. It was a bit breezy that afternoon, but didn't affect the trailer too much.(7/02/03 11am)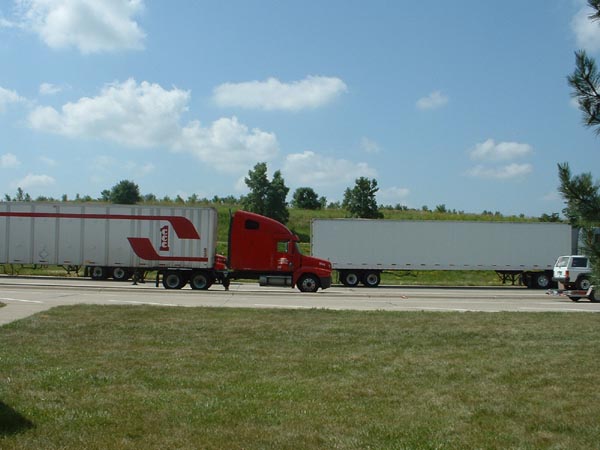 This is me and Shadow relaxing on the grass.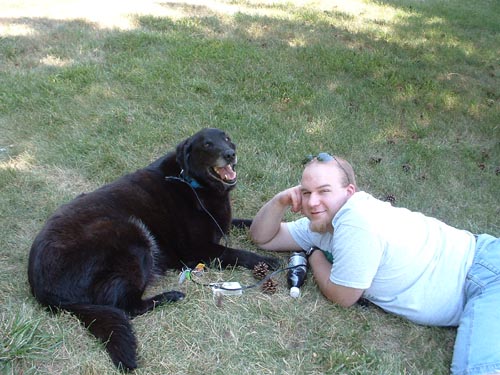 Nebraska Pix:
A rest stop just inside Nebraska (between Omaha and Lincoln) overlooks the Platte River Valley. This was pieced together from 5 or 6 shots. Click on it for a larger version. (3:45 CDT 7/02/03)

We stopped at another rest stop in Nebraska just east of North Platte for a few hours rest.
The next morning we got up really early and after some coffee for me and flavored cappuchino stuff for Ti we were wired and ready to get on the road. We didn't take any pictures coming into Colorado because we didn't stop anywhere. However, Ti did take a few pictures of me the day after we moved in.
Me, crashed on the floor after a long trip: (7/04/03 5:14pm MDT)


Kitten lying on the floor after said long trip: (7/04/03 7:30pm MDT)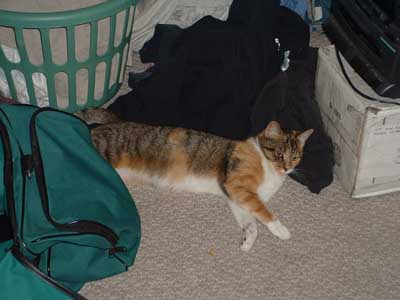 And a not so awake Evan after above nap: (7/04/03 7:34pm MDT)